Evolve your training
Sportly helps players, coaches and clubs streamline team administration, improve communication, and enable more reliable athlete monitoring and performance measurement.
Sportly has been designed to support all types of sporting organisation from local teams and clubs to pre-elite academies, schools and SSOs with advanced training and athlete monitoring demands.
Easy Athlete Monitoring
Valuable insights in training patterns over time for both recreational and elite athletes
Better understanding of the individual training load players are placing on their body.
See how your team is responding to the physical and mental aspects of training and who is at risk of burning out.
Injury management designed for coaches to get your players back in the game.
Import key personal health data from your connected devices, via your Apple Health or Google Fit apps using the Sportly Health Sync integration.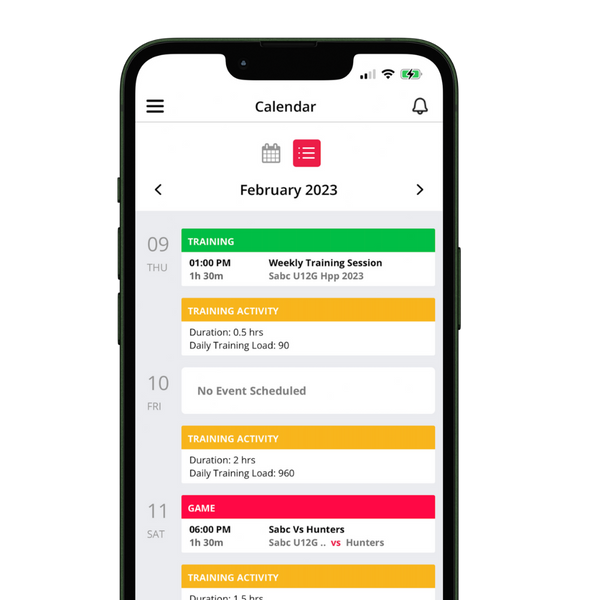 Simplify Team Admin
Team calendar to manage all team trainings and matches. Reduces parent confusion around training times/locations and helps improve visibility on player availability and attendance at all sessions
Dedicated chat channels for each team to streamline communications between coach, team and parents
Share team QR code with players for easy scan-to-join approach.
Seamlessly move players between your teams if there are changes during the season
Our Clients
Join these organisations who are already benefiting from the Sportly platform.
Evaluate Performance
Quantify the base levels of your team and learn how they are improving across the key markers for your sport.
Identify their relative strengths and weaknesses determined through screening assessments from our comprehensive library.
Centralise organisation data and use for intra-team comparative benchmarking, large scale talent identification or individual player report cards.
Engage Your Community
Personalised social feed for players, coaches and parents, to help mass communication with your community.
Share a range of content including: sideline photos, videos or external articels with your team.
Promote sponsors or organisation updates and share special offers for your club.
Exclusive access to Sportly generated articles, curated news and sports science research that is relevant to all levels of sport.
Get Started With Sportly
If you're an athlete or a coach, our multi-sport version of the Sportly app is available to download on both IOS and Android devices. Simply visit your resective store using the links below. Download the app, create your profile and join your team to get started.
Testimonials
Sportly has transformed the way I coach. I can access an overview of how hard each player is working and use this information to tailor training programs and challenges to the needs of each team or individual player.

As a coach I loved being able to share videos of any new skills I wanted the girls to learn and having them upload footage of their technique so I could provide feedback during lockdown was invaluable.

Player wellbeing is a key aspect to our athlete development, and Sportly provides us with the tools to monitor our players across multiple training environments to ensure they are minimising the risk of load related injuries.

Sportly allows us as an independent academy to consolidate and centralise the frameworks we have developed around our high performance sporting programs. In practice, it enables us to deploy customised, individual training plans across the broad range of sports that we offer our growing sport community.

From training programs to strength and conditioning exercises to communication tools, Sportly has all the tools necessary to allow us to provide a level of professionalism to our programs that will only make athletes and coaches better both on and off the court.
Contact US
Let us know how we can help and one of our team will be in touch.